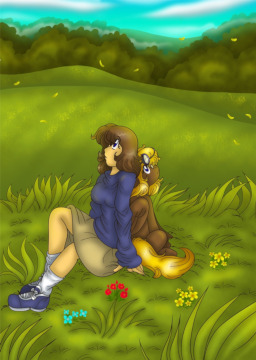 'I looked at the reflection, and the beast looked back.'
Viktoria had never seen the mirror before, now she wishes she had never examined it. With her body twisted into a strange and unsettling new shape she must become accustomed to her new equine form before finding a way home, and along the way also return her body to normal. Her body betrays her with each movement, muscle memory working against her. Will the newly encountered Flitter and Cloudchaser be able to help her?
Even with the new addition of wings to grant her flight and escape, Viktoria has never felt more confined.
'Others see me for what I am. I only wish for them to see me for who I am.'
( Thanks go to AkuOreo for such a lovely cover art! )
( Also, seems to have a Tv tropes page in the making! )
Chapters (6)