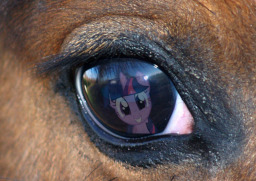 All Princess Celestia wanted was to open a window. A simple window into another world, for no reason other than to prove their existence. She never wanted it to become a door. And she certainly never wanted anything to come through. But, as is proven so often, we don't always get what we want.
It's not all bad. What comes through is a perfectly ordinary pony. So ordinary that its very presence risks the destruction of magic itself.
Ordinary, after all, is highly relative.
Chapters (8)