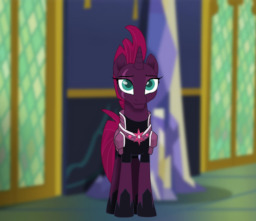 Source
This story is a sequel to Fizzlepop's Number One Assistant
---
Equestria's leadership is undergoing its first exchange of power in over a millennium. As Princess Twilight Sparkle relocates to Canterlot, her faithful Captain of the Guard Fizzlepop Berrytwist wonders if she's prepared for the newest changes and challenges in her life.
---
Contains spoilers for the finale of Friendship is Magic.
---
Cover art: Vector by ejlightning007arts, edited by CobaltBlaze93, and background by Fakkom.
Chapters (9)