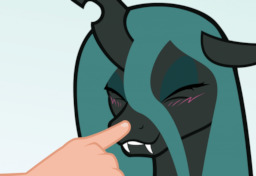 Queen Chrysalis likes it when I boop her on the nose. It helps her relax. However, one day, Princess Twilight Sparkle bursts in, thinking that Queen Chrysalis has put a spell on me.
Surely, when I explain to her that I boop her, she'll understand. Right?
Right?
Inspired by a delightful flash game that can be found here.
Featured on August 28th, 2016. This is as unexpected as it is amazing.
Chapters (14)