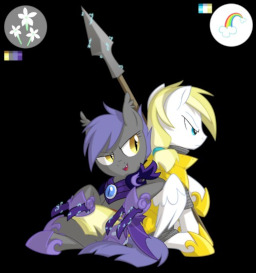 This story is a sequel to The Golden Armor
---
It's more of a continuation than a sequel, but whatever.
Comet is the leader of Princess Celestia's personal guard. Angel is the leader of Princess Luna's.
Comet is awake during the day. Angel stays up all night.
Comet likes using a halberd. Angel excels at using claws.
Comet is a pegasus. Angel is a bat pony.
Together, they take on all the twists and turns life hands them. However, things don't always go as planned.
Cover art by Equestria Prevails.
Proofread by jmartkdr and Feather Scratch
Chapters (3)