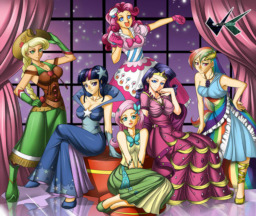 This story is a sequel to When the Man Comes Around
---
The seventh story in The Journey of Graves.
The Grand Galloping Gala. A night of social grace and fantastic delights for many. A night of traumatic memories best forgotten for many more. Nobody knows why, but when Twilight calls the girls together and shows them a letter plus six tickets, the conclusion is clear: they're being invited to have one more go at making it the best night ever.
Everyone's got a plan, everyone except for the reluctant Rarity. How's she supposed even enjoy herself after such a heartbreaking debacle with the horrendous Prince Blueblood? Can she still have a good time? Can a certain steely-eyed soldier help?
Chapters (12)