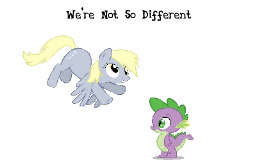 This is a 'what-if' story? As in, 'What if they didn't forgive Spike for what he did?'. That's why everyone is OOC.
Spike's rampage through Ponyville has left the town in ruins, and made the townsponies realise how dangerous he will become as he grows up. Even Twilight and the other Elements are distant. They send him away while they repair the damage he caused.
With everypony seemingly against him, Spike feels alone. But he soon finds an ally in a certain mailmare — somepony who knows all too well what it feels like to be in everypony's bad books.
AUTHOR'S NOTES
I got the idea to write this from someone I am following on Twitter. They asked 'How is it even possible to ship Spike and Derpy?'. To which I thought 'Challenge Accepted'. Of course, they didn't say what kind of 'ship' it had to be. So why not friendship?
I've tried my best with this, I really have. But bearing in mind that the characters have never even interacted in the show, it was hard to write. However, I did my best, and now leave it to you, the reader, to decide how good it is.
Oh, and just because Derpy is clumsy... that doesn't mean she's not smart.
Chapters (1)