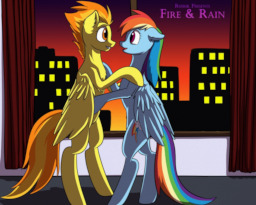 Source
Comedy
Romance
Slice of Life
---
When Spitfire finds herself grounded on the team injured list just before a show in Manehatten, she prepares for her life to crumble around her. The experience leads her to come across Rainbow Dash, temporarily managing the Manehatten weather teams. The two fliers will discover that sometimes it takes the darkest moments of our lives to find the brightest ones.
The Sequel: Feathers of Blue and Gold is out now!
Video review by the wonderful ChaoticSeven!
Edited by the wonderful Taxus, Sorren, and Sojourner.
I do my own cover art.