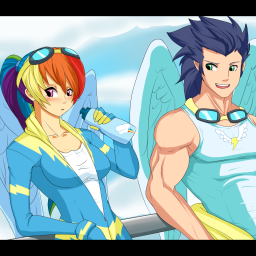 Rainbow Dash is Animado High's best sportswoman and Performing Artist. She can do anything from singing and dancing to track/field and football. The talented tomboy seems like she has a perfect life - excellent grades, athleticism, beauty, life-long friends, a loving family, close to zero problems. But, she does have one problem - she has to decide which one to do after she graduates.
Then, not too far into Summer Break, a best friend introduces the Wonderbolt Academy, and there, she can do both her dreams of being a sportswoman and Performing Artist. The best part? They have three, not one, but three openings in their Sport and Perform team, the most fun, but difficult, division in the academy. Rainbow packs her bags, applies to the academy, and even befriends some people there. But as the year goes on, Rainbow Dash will not only find her true place, but also someone to love. (Modern!Anthro AU)
---
EDIT (1/21/18): I hate to disappoint you guys, but I am officially canceling this story. This version, at least. I will be doing some serious heavy edits and actually think this through and outline it before I reboot it in the future, and the same goes for "Two Worlds, One Love". I've done a lot of growing these past few years, both as a person and as an author, and I will admit, looking back on this isn't exactly something I'm proud of. I'll keep this up for your viewing pleasure, though, and I promise you, when I'm not so bogged down by other projects and life, I will bring this story back to life - only better.

Chapters (7)