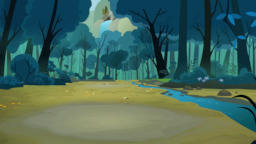 Source
Every so often, you just have to stop and take in the scenery -- or at least find a place where you can develop some photos of it. Snap Judgment's been out of Equestria for a few years, and he's just a little behind on the news. Renting an incredibly cheap piece of land near the border of Ponyville, so he'll have a place to park his home/caravan/darkroom without issues... that just makes sense. And it's so pretty out here. Maybe he'll even find a place to settle down.
Or maybe, once he learns exactly why that land was so cheap, he can get a decent head start.
Nopony lives near the cottage. There are a few reasons for that. And sometimes, they come visiting.
(Now with author Patreon and Ko-Fi pages. Cover art by Dipi11, used with credit under open permission.)
Chapters (1)