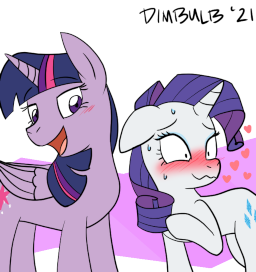 Source
When Twilight was still Ponyville's unicorn librarian, she learned a surprising secret from Rarity.
Twilight surprised Rarity with a secret of her own.
Warning: This story is silly, and contains at least one plot twist (some people don't like those.)


---
(Image Source: I edited a picture by "DimBulb," with DimBulb's kind permission.
The original image is, of course, bigger, better and cuter.

)
Chapters (1)