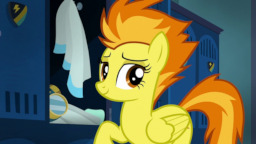 Things rarely end well after you punch a journalist, even if you are a celebrity stunt flyer.
Finding herself suddenly alone and without plans on Hearth's Warming, Spitfire latches on to an offer from a friend to do a little favor for Princess Twilight; act as a bodyguard and escort for a very strange VIP while Twilight and some friends sort out a little friendship problem in another dimension.
Turns out this favor is a little more dangerous, and a lot more fun, than she expected.
(Sex tag is for lots of flirting and innuendo)
Editing provided by Aurora Dawn
---
This was written for forbloodysummer as a part of Jinglemas 2020! For more information about Jinglemas, check out our group!
Chapters (4)