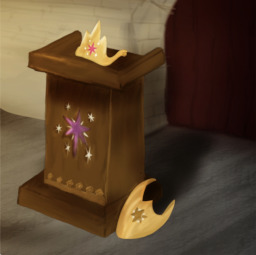 This story is a sequel to Cocktails
---
Twilight has ruled Equestria for three centuries, spreading harmony throughout the lands both inside and outside of her country.
Now, her job is done. She is ready to let everything go. But before she does, she delivers one last speech.
---
Expanded from my entry to KrazyTheFox's 10th Anniversary Panic Write(alternatively 62nd Panic Write) at Quills and Sofas Speedwriting Group, where it placed 5th. Participants were given 30 minutes to write and 10 minutes to edit. The prompt was Friendship is Magic.
Tone inspired by A Final Twilight. Story Concept inspired by Zontan's The Last Decree.
Preread by Holtinater, Vis-a-Viscera, Shaslan, Scoping Landscape, Atom Smash, Nailah, Cara, Emotion Nexus, Speccer, The Red Parade, and finally KrazyTheFox.
Edited by AuroraDawn, Speccer, and Cara.
Cover art by Speccer.
Featured 1 hour and 30 minutes after publication from November 13th to 14th. You guys are amazing!

Now with a voice reading done by the lovely Nailah!
---
Edit, 06.13.2021: Even though this story is a sequel to Cocktails, no knowledge of the prequel is required as the story was meant to be a standalone fic.
Chapters (1)