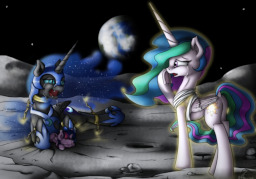 Source
This story is a sequel to Celestia's Twilight
---
We all know the story. One thousand years ago Princess Celestia was forced to banish Nightmare Moon to the moon to save all of Equestria, but what if Luna had been hiding something from her sister, scared of how she would react? When Luna had no other choice, she cried out for Celestia and Celestia came. For one thousand years, Luna wondered what happened when Celestia left; now she's finding out...
But is it already too late, or will Luna be able to take the role she had so long dreamed of? The dream of being a mother?
editor Don't Look At My Name Bro! and RK I am lost without you!
Chapters (9)