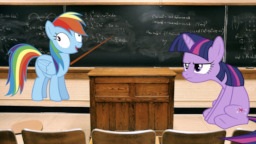 Rainbow is teaching Twilight about the usage of feathers. You know, the feathers in pegasi's wings. Yes, you heard me correctly. No, I did not stutter.
---
Originally an entry to the Quills and Sofas Speedwriting Group's Candy Heart Panic Write Contest held on January 14th, 2021. The prompt was Oooh.
Thanks to those who participated for prereading and commenting, and special thanks to HapHazred for editing help.
Chapters (1)