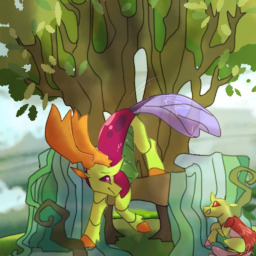 Source
After the Hive reforms, Thorax finds himself the sudden leader of the changelings. And as it turns out, being the leader means comforting a small nymph who's all alone. But as Thorax looks after the little one, he finds himself caring about the young nymph more than he ever could have thought. Thorax soon found that he's created his own family. It may not be the one he dreamed about as a nymph, but he loves his family. Thorax would do anything for his little nymph, Apex. And as young Apex continues to touch the heart of the alpha changeling, it turns out that Thorax isn't the only one who cares about the little one.
Author's note: The character Apex in this story is in no way connected to the Apex from NavelColt's stories. This Apex is my own original character viewed as an alternate version of Apex with a completely different personality. I only took inspiration in the name, which was originally meant to be a placeholder. If you're interested, go check out NavelColt's The King of Love Bugs to see his Apex.
Edit (11/11/20): Now with cover art! This was drawn by CitreneSkys, check out their DeviantArt account!
*Popular 10/23/2020-10/24/2020!! Also featured 10/24/2020, 12/26/20, 1/16/2021, 1/22/2021, 3/5/21, 4/2/21, 4/9/21, 5/28/21, 6/11/21, 6/18/21, 7/9/21, 8/13/21, 8/20/21, and 9/10/21!!
Chapters (48)