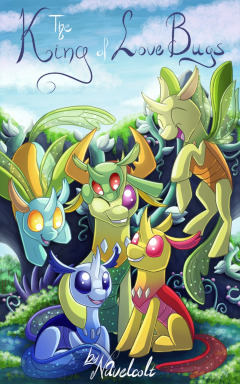 Source
This story is a sequel to To Love as His Own
---
Following the defeat of Queen Chrysalis, the princesses of Equestria seek to build a relationship with newly-crowned King Thorax and forge an alliance between ponies and changelings that has never been seen before.
While the changelings adjust to the broad, sympathetic intricacies of shared love magic, Thorax works to embrace his role as the hive's new patriarch, demonstrating a benevolent rule far different from his predecessor. Through sleeping and resting together in groups, he aims to cultivate harmony and empathy in a once turbulent hive and find a place for himself within it at last.
With the help of Equestrian royalty, a few good friends, and his brooding older brother, Thorax must now champion the idea of peaceful changelings in Equestria and show the world that his kind can change more than just their looks.
* Now in physical print! Check here for details!
---
* Main entry of the Love Bug Continuity!
* Takes place between seasons 6 and 9.
* Featured on a Tv.Tropes page.
* Story artwork created by Racingwolf.
* Edited by Double R Forrest.
Chapters (38)