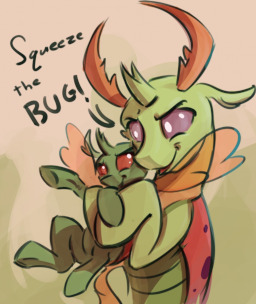 Source
Seeking to normalize cluster naps among the hive's excitable young, Thorax has invented a game. For five minutes he attempts to capture nymphs as they fly around the nursery hive. Upon capturing one, a swift hug and the phrase, 'squeeze the bug!' signals a countdown. The other nymphs have ten seconds to free their friend, lest Thorax get a point. Five points and Thorax wins.
Being a sentimental monarch is hard work, but tiring out little changelings so he can take naps with them - most especially with his favorite one of all - makes it all worthwhile for Thorax.
* Featured 11/19/19!
* Part of the Love Bug Continuity!
* A spiritual sequel of To Love as His Own.
* Cover artwork done by the awesome KamDrawings!
YouTube reading by Skijarama!
Chapters (1)