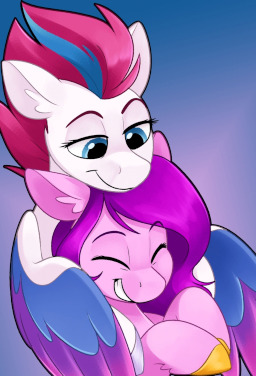 It's Siblings Day in Zephyr Heights, and for Pipp that means another chance to obtain wholesome sister hugs for her livestream. Adamant to keep away from her sister's viral shenanigans, Zipp recruits Hitch to help her avoid the avid pop star.
Hitch, however, has his doubts about the whole thing.
Featured 3/20/2022 - 3/24/2022!
Live reading by StraightToThePointStudios:
1, 2 ,3, 4
---
Ten years ago I began writing pony fiction for Gen 4 with a cute story about sisters. Today, I celebrate by doing so once again for Gen 5.

---
* Edited by Double R Forrest and LevelDasher.
* Cover art by Luximus, insert art by JowyB, and author's note art by Tomiku.
Chapters (4)