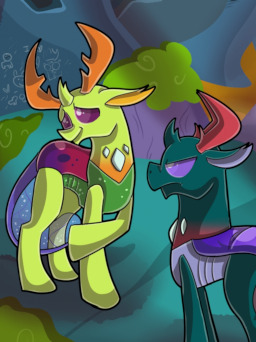 Source
My brother and his friends overthrew a perfectly functional monarchy and turned the changelings into a bunch of pastel hippies.
I (regrettably also now a hippie) am trying to reintroduce regiment and strength to the changelings of our hive.
That includes my brother.
Featured 2/15/2022 - 2/17/2022!
---
A gift for Sockiepuppetry, inspired by their Thorax artworks, and most notably, their Boys Will be Bugs fan animation.

---
* A part of the Love Bug Continuity!
* Cover art by Wulfumz
* Edited by LevelDasher
* Live reading by Skijarama

Chapters (1)