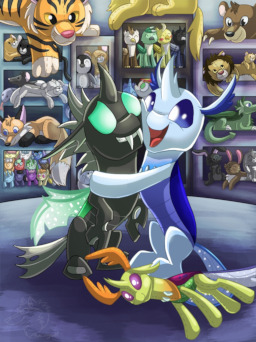 Source
While visiting the Crystal Empire as part of a liaison unit from his hive, a young changeling excitedly tracks down the workshop of a local plush maker, eager to pick up his special order. When he discovers the shop maker is actually a changeling from another hive, his walk-in turns into an unexpected friendship, and a memorable experience.
* Featured 10/29/19 - 11/01/19!
* A collaboration between myself and Racingwolf!
* Calor & story are (C) to me, Scy, cover art and author's notes art are (C) to Racingwolf!
Chapters (1)