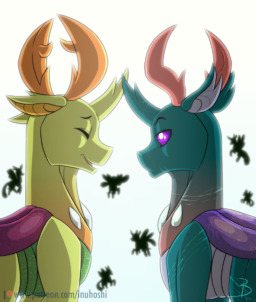 Source
"Hey Pharynx?" Thorax asked, trotting up to his brother's nest and nudging him.
"What wimp?" Pharynx asked, opening a lavender eye and looking at his brother.
"Why is mom our only parent?"
"Huh?" Pharynx raised his head.
"All the other nymphs have a mom and a dad. How come we don't have a dad?"
---
One conversation over twenty years ago can do a lot. Soon after the anniversary of Chrysalis' defeat, Thorax and Pharynx begin to question...where's their father? After a little while of searching, they think they've found a lead. But one problem still remains...because deep down...Pharynx still isn't sure if finding their dad will fix anything...and if they do find him...will Thorax still need him?
Featured 7/12/2020, 8/16/2020, and 9/6/2020!
Chapters (14)