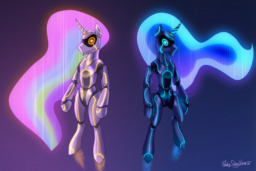 Source
This story is a sequel to Magic's Birth
---
Luna and Celestia tell Twilight of the story of their 'brief' lives as the second to their makers, and how they grew from 'simple' machinery relative at the time to fully sapient beings.
From towering cities piercing into seas of stars to ravaged but hardy lands still giving food to those that stand upon them, Twilight will learn how the two sisters came to be and what they went through. The duo are more than happy to recount the tales of those that developed like them and became fast friends despite running on the opposing Blue and Black energies.
Perhaps, with the help of Twilight, the three will learn how the Blue's waste became the magic that gave such life and color to a world that belonged to others long, long ago.
---
You can find the original image link here
This was art done by JedaySkayVoker whose DA can be found in the source. Kryostase commissioned it for me. He's also been helping spot spelling errors, typos, and the like. Thanks a lot!
Chapters (43)