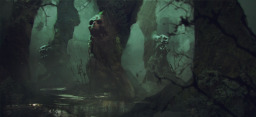 Source
Sweetie Belle is invited by Twilight Sparkle to the decrepit castle in the Everfree to see if they can't find any other spell books, and Sweetie wouldn't lose such an opportunity. Unfortunately, she gets lost after a brief distraction and can't find her way back. The more she panics, the scarier and more twisted the trees started to become, and the more Sweetie starts to see things coming from the bark that disappear when she looks at them directly.
---
Cover art by Ralvar. Source on the image.
Psychological Horror
There are hidden symbols in here explaining what is happening. Can you find and decipher the hidden story?
Chapters (1)