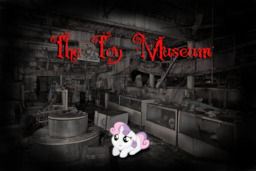 Sweetie Belle is on vacation with her family in Fillydelphia, when she spies a lonely old shop window with a mysterious toy within its depths. A doll fashioned in her image. It's been a long time since some pony has dared open these doors, but determined to uncover its secrets, she braves the unknown to venture within...
Special thanks to Rogueunicorn, DudeGuyOne, Dihydrogen Oxide, Alcatraz, AClosetBrony, Discord Kantus and Gadgetphile for the job of Editing/Pre-Reading and general advice.
Now with 100% Less errors, courtesy of Nekonyancer. AND... A brand new scarier ending.
Chinese Translation by MLM: Here
Review by PresentPerfect: Here
Available in Print: Here
Audio Drama by GutiuSerenade: Here
Dramatic Reading done by Plagen Shiki: Here
Chapters (2)