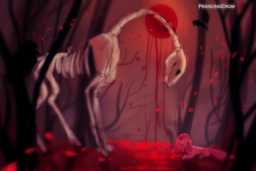 For Pinkie, it was a day like any other, spending time with her good friend Fluttershy. What she didn't know was that it would be her very last day alive, passing away in an unfortunate accident as she tried to save her friend. When she woke up, she was laying in the middle of the woods, staring Death itself in the face as it made an offer to her. Should she make a deal with Death, or would that be worse than dying itself?
This is the source of the art, I stumbled across it and it's partly what inspired me to write this story. https://www.deviantart.com/prancingcrow/art/Friend-576949252
Huge thanks to https://www.fimfiction.net/user/278463/Buttonous for editing!
Featured: 7/27/20 to 7/30/20, 9/12/20. Wow, really wasn't expecting this to blow up so much. This is my second ever featured story, and my first story that ever got hot. I'm glad you guys enjoy it so much. This is now my most liked story, I can see you guys really like this.
Chapters (3)