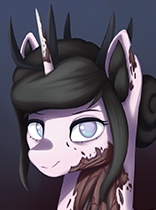 Source
The following story takes place in the Equestria at War universe. It contains major spoilers for the Dread League.
---
Rosa Maledicta. The name once struck fear into all who heard it, but now there was no one left to hear it.
Her Black Crusade against the living has just ended. She had done it. Everyone, everywhere, was dead. The world was empty. Now the self-proclaimed Queen of Bones stands atop her tower in Magehold, reflecting upon her experiences in life and unlife. It had taken a lot of work to get here, after all.
Yet...
Despite harboring an intense hatred for the living, she couldn't help but wonder...
Was it really worth it?
(Trigger warning: Death via falling from a great height as well as via blunt trauma)
Chapters (2)