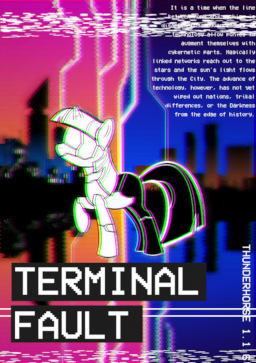 Dear Princess Celestia [Celestia@solmail.gov],
Attached are the individual reports by myself and my friends regarding the events around the Blackout. As you suggested, I allowed them to speak for themselves and haven't altered their words (except for Pinkie Pie's, whose report was sent in a font that brought to mind screaming graphic design students - I altered her stylistic choices but not the message).
I did read over them, with their permission, to give myself a greater understanding of the events of that tragic day. My thoughts are appended as footnotes to each of the reports, where I attempted to correct them where they were mistaken and explain terms of slang and technical detail which a casual reader may be unaware of.
Of course, I'm not sure a casual reader will ever be allowed to view this archive, so in the end, the contents will almost certainly remain state secrets.
Twilight Sparkle
Personal Student of Princess Celestia
"Veritas nomine est equuis."
[TSparkle@solmail.gov]
---
A cyberpunk story in the vein of Ghost in the Shell, Blade Runner, or Shadowrun.
Thanks to all my Patreons, Subscribers, and Fans!
Contains mild violence, thinking machines, unthinking ponies, old grudges, new forgiveness, and ponies too caught up in the middle of things to find the truth.
Chapters (6)