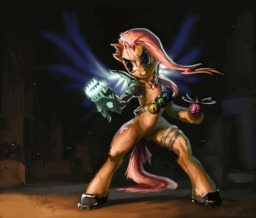 Nopony has heard from Fluttershy for three months. Not Rainbow Dash, not Rarity, not even Pinkie Pie. Her friends have been tending to the cottage and her animals, keeping it clean and organized, but even with Twilight's constant magic scans and a semi-constant guard search Equestria-wide, no hint has been found of where she went, how she vanished, or why she didn't tell anyone. Some ponies even think, in their darkest nightmares, that she might be dead.
Then she shows up one day, very definitely not dead, but just as definitely not the same as she was.
And does she have a story to tell. Boy, does she ever...
Coverart by Paladin.
Chapters (10)