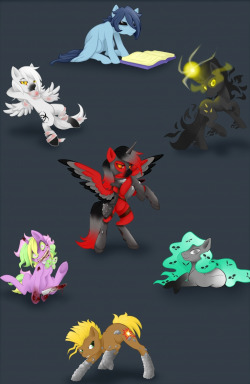 After years of gruesome murders committed by an unknown organization the once peaceful land of Equestria has been left festering in a state of terror, but when the criminals are finally brought to justice it appears that harmony may once again return.
In a twist of fate, the lives of those responsible take a drastic turn when they are given a second chance at life, and thrust into the world tasked with learning the ways of the land and becoming one with society.
Meanwhile, as Celestia attempts to heal Equestrias scars unseen forces conspire to send her peaceful reign into chaos. Tensions flare and when the Princesses rule is brought into question it will be up to the citizens to decide the fate of Equestria.
Featured: 3/24/2018. Wow, I'm amazed my story was featured it's first day. As a new author on this site, I never could have dreamed of this. Thank you all!
Chapters (4)