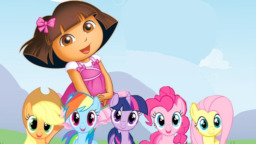 My day was finally going so well. Spent time in the city, got the Pokéball Plus so I can get Mew in my new Pokemon Shield and a Nintendo Switch, which I got far cheaper than normal thanks to the Black Friday sales yesterday and was looking forward to getting home and putting Mew into the game.
Everything was finally going smoothly... until some asshole tries to rob me, I trip defending myself, only to somehow find myself in Equestria as the character Dora the God Damn Explorer.
How I'm supposed to get home or do anything now I'm stuck like this is beyond my understanding and this Equestria's timeline is not like what I know of the show.
For the record, this is NOT a Displaced fic, so if you don't like those, don't worry.
Sex tag is because MC used to be an adult man and merely is for when they talk about mature topics, nothing more.
Note: I have added translations to things spoken in Spanish in the author's notes of each chapter. However, i did not do so for Spanish sentences that get repeated in English within the chapter the sentence appears in itself as that would be a bit redundant. I also will not repeat translations in further author's note after they've already been translated as, if you follow the story, I'm going to assume you've read the ones in previous notes enough to not warrant another translation.
As for the obviously edited cover art, it's from the thumbnail of this weird video Nickelodeon Dora the Explorer Save MLP Frozen Elsa Anna Disney Princesses Storytime Adventure as it was the only reasonably good MLP/Dora image I could find and I think it serves it's purpose enough.
If someone wants to make a better thumbnail for the story, I'd be happy to use it and would indeed credit you, though I doubt anyone will want to waste their time on that and I honestly wouldn't want them to waste their time on it anyway.
I couldn't pay them, so it would literally just be one of those "paid with exposure" situations and I'm not someone who does that bullshit.
Chapters (17)