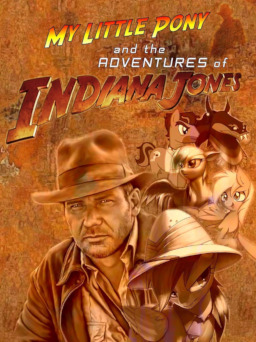 Daring Do. Adventurer, archeologist, treasure hunter, and a mare who saved the world a few times. She is also known as A.K. Yearling, write and publisher of the Daring Do series that tell tales of her adventures to the public. On both sides, all is known about the writer and adventurer, but there are a few things that someponies don't know.
In this story of our brave adventurer, we tell the tale of her siblings. But that's not all. There is one thing that someponies didn't know about the the mare. Especially the one sibling she had. He is a very strange creature. Now this guy is no minotaur or some gryphon mind you. No, he is something more bizarre, the likes of which nopony has never seen before.
He is tall with no horn, wings, or fur on his body except for the bit that's on his head and face. His eyes are small and his ears are on the side of his head. And he wears clothes...all the time! To Daring, family, and friends that know this strange creature, he is called Henry Walton Jones Do. But he is also known as...
Indiana Jones! So strap in ladies and gents, it's time for an adventure!
Chapters (3)