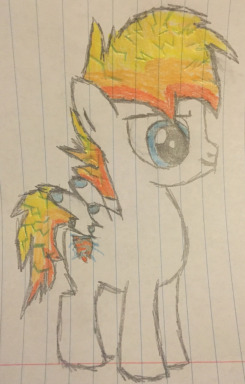 Source
This is Mason, your average 10 year old kid, living in a good town with a good school, awesome friends, and overall just a good life. But when his parents are taken in a car crash, that he miraculously survived, he now lives in a orphanage.
One day Mason wishes for a little more in life. Well Mason gets his wish....in the form of a colt....surrounded by technicolored ponies....yeah not what he was going for. Well on the bright side, he's a pegasus with awesome fire and lightning powers so what could go wrong?
NOTICE: For future chapters there will be additional tags. Tags are Dark. That's it you can go home now.
[Major Re-Edit]: This story had a major re-edit starting 10/3/17 to 10/19/17
Chapters (19)