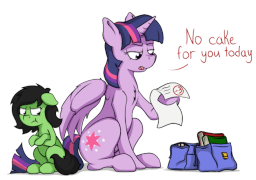 After failing a math test, Anon returns home to her adoptive mother; Twilight, who attempts to teach Anon basic math. Unfortunately for her, math is harder than it appears.
Will Twilight learn a lesson?
Will Discord cause chaos?
Is Princess Celestia too fat?
Will Anon get the cake?
The answer is mostly yes.
My entry, and now the winner of the Anon Filly Contest
Featured on the day of its posting; 3/6/2020!
and
With a reading by StraightToThePointStudios!
Chapters (1)