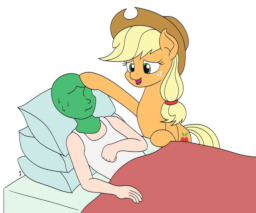 Source
Chapter 1
You are Anonymous and you're in the hospital. There was an incident and it was all Twilight's fault. In order to make it up to you, she wants to use magic to help set everything right. Lucky you!
Chapter 2-5
There were demands for this story to be continued, so put on your big boy pants because this thing is going to get weird. Sometimes you are Anonymous the human, other times you may be someone else, in this first-person POV adventure. More backstory, more world building, more characters, and more snarky comments! Think of thing that you've never thought before!
---
My first published story.
Rated "Teen" for sexually suggestive themes, crass language, and profanity.
Chapters (21)