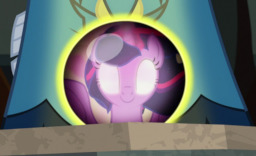 Shortly after her coronation as the new Princess of Equestria, Twilight is visited by a creature she never expected to see in person. What's even more unexpected than the identity of this petitioner, though, is his reason for coming.
Maintenant en Français grâce à la traduction merveilleuse d'Acylius!
(Now available in French thanks to the wonderful work of Acylius!)
---
Partially inspired by the Imposing Sovereigns II contest under the prompt "Twilight/The Old."
Chapters (1)