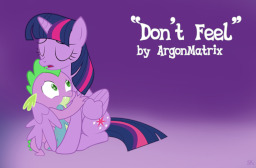 Losing your home isn't something that you get over in a day—Spike doesn't think so, at least. But Twilight insists that she's not overly distraught by the destruction of the Golden Oak Library, and she says that she's simply ready to move on. Spike, on the other hand, can't let go of his old home quite so easily. Is Spike just blowing this whole thing out of proportion, or is there something Twilight isn't telling him?
---
Now in audio form, courtesy of Pinkie Pie!
Cover image generously created by StainlessKey.
Chapters (1)