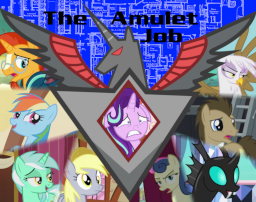 Starlight has a problem. Twilight left on an ambassadorial mission to the zebras less than a week ago. Just this morning, a businesspony showed up on the doorstep of the Castle of Friendship and stole the Alicorn Amulet right out from under her nose.
Rainbow Dash has a solution. Steal the Amulet back. How hard could it possibly be, right? Okay, so the Amulet's being kept in one of the most secure vaults in Equestria. And it's surrounded by guards and bystanders. And there's no one in Ponyville who has much experience in heists or robberies or law-breaking of any kind. Oh, and said businesspony is planning on selling the powerful artifact of dark magic on the black market, putting the whole thing on a time crunch. And they don't even have the blueprints to the place. But other than that, it'll be easy!
Starlight has a problem. This is the closest thing to a solution she has.
This can only end well.
---
Takes place before the season 6 finale. Updates Thursdays.
Chapters (2)