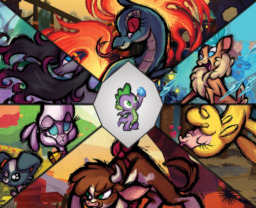 A MLP: FIM/Them's Fightin' Herds Crossover.
After another magical mishap, courtesy of Starlight and Trixie, Spike ends up in the world of Fœnum. With no other alternatives, Spike must learn how to fight for himself, if he is to stand a chance to survive in a world where "survival of the fittest" takes a whole new meaning.
Meanwhile, Starlight, Trixie, and Thorax will have to work on finding an answer to bring Spike back home, before Twilight finds out.
Rated violence for the fights.
Co-Author: Needed.
Editor: Kikio3000 Needed
Proofreader: Needed.
Chapters (19)