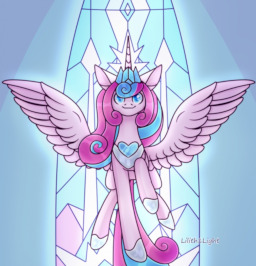 Source
It has been fifteen years since the Battle of the Bell, that terrible day when friendship failed and the forces of evil were triumphant. The conquerors of Equestria carved the land into three and settled into their rule, comfortable in the knowledge that nopony would ever be able to stand against them again.
In her home, a manor-house she calls Story's End, the Empress Cozy Glow receives an unexpected visit from a most expected visitor. It's a night she has long anticipated; the absolute final victory over the forces of light and love. After all, what has she to fear?
How much of a threat could an exiled princess from the far north possibly pose?
//////////////////////////////////////////
Cover art borrowed from lilith1light.
Chapters (1)