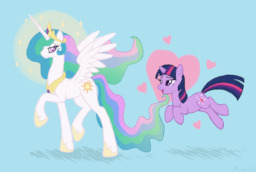 Source
In a world where she sees from a distorted perspective, all Twilight Sparkle can do is cling to the one pony she knows will never let her down: her teacher, the princess... no matter which princess her addled brain tells her that is. Twilight's used to rewriting letters, but when she's the one being rewritten, she finds the sensation to be altogether different.
Many thanks must go to my awesome editors, Varanus, Ebon Mane, shortskirtsandexplosions, Seattle_Lite, and Nick Nack.
Featured on Equestria Daily and The Pony Fiction Vault.
Check out/contribute to this story's TVTropes page!
Chapters (4)