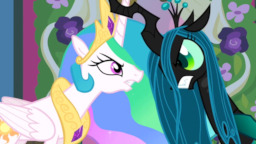 Celestia has never used her full power.
Ever.
But that might be about to change. Chrysalis has contacted her and requested a meeting out in the middle of nowhere. Celestia expects a trap. In fact, she's hoping for it.
Featured: Because you guys are way too nice to me. Thank you all!
Now with a Spanish translation: https://www.deviantart.com/spaniard-kiwi/art/Un-mundo-de-fosforos-923171362
Chapters (1)