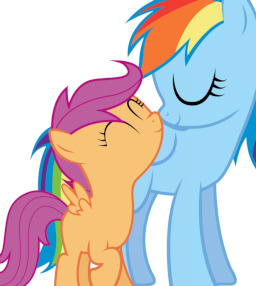 Scootaloo has always turned to Rainbow Dash through the biggest moments of her life: getting her cutie mark, flying for the first time, when she graduated from school. But you don't stop growing up just because your body does. Some lessons take time to sink in, and someone to share them with.
Edited by Noble Thought
Cover art: Sisterly Love by Silentmatten
My entry into Everfree Northwest's Scribblefest 2016.
Chapters (1)