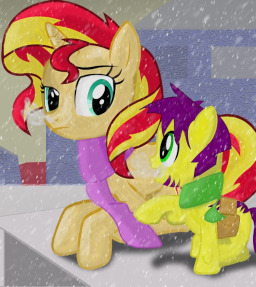 Source
Even though Sunset Shimmer managed to close the space-time rifts caused by the Human Twilight Sparkle, one tear still remains.
Two spirits of chaos and a certain pink pony make numerous changes, the largest of which is the portal remaining at the Crystal Empire under Sombra's guardianship before becoming evil. This forms a paradox merely known as the New Timeline.
Join me as we explore the stories in the New Timeline
You can still read the stories of the Old Timeline, but now those are considered non-canon.
Season Zero: Prologue to The Fall of Sunset Shimmer
Season One: Bitter Reunions to Snow Day
Season Two: Bring a Monster to School Day to A Canterlot Wedding Part 2
Season Three: The Crystal Empire to One Shall Rise
Stories set in Season 5: The Advent of Godzilla
The Return of Tambelon
Dawn of the Dinosaur
Season 6: Revelations onward
Equestria Girls (By Chronological Order): Rise of the Maximals, Equestria Girls (New Timeline Version), Camping is Just Dazzling, It Came from the Mysterious Beyond, MLP/LBT: The Stomping Grounds, The Perfect Dinosaur, From Beyond the Western Gate, Wrath of the Red Dragon, A Maximal Crusader, Heir of the Sands, Equestria Girls: The Rubicon.
Includes "Adventure" stories as well.
Chapters (34)