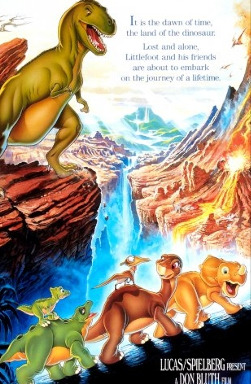 Source
As the land around them slowly succumbs to earthquakes, famine, flooding, and volcanoes, the majority of the dinosaur herds ventured forth to find a more hospitable place to call home. But it was a march of many dangers. Sharpteeth stalk the herds, waiting to seize any who strayed. Many would not survive the journey.
After being separated from their herds, several young dinosaurs, lead by a Three Horn by the name Apple Bloom must overcome their differences if they are to make the journey through vicious animals and dangerous lands to the lush valley of Canterlot Crater.
...
Written out of correlation with the 27th Anniversary of The Land Before Time, I present a crossover that combines the mythologies of My Little Pony and The Land Before Time. Also has references to other dinosaur films with a similar context
The Pony's are in dinosaur form, akin to what is described in It Came from the Mysterious Beyond (albeit with a few changes) while certain callings are replaced (e.g Celestia will be their calling of the Sun in place of The Bright Circle).
Rated Teen for events of violence and mild peril.
A Spin Off of The New Timeline, recommend reading the prologue
Chapters (11)