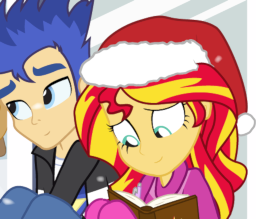 After two years of magic related phenomena, the former students of Canterlot High have since gone to college. And sad to say, Flash isn't that much a lady's man as he was. Sci-Twi already has interests on another student, and it's not likely that the Princess of Friendship will enter his world just to visit him in college for a short while.
In that regard, Flash hopes to rekindle an old flame... If she's so willing to forgive him.
---
Special Thanks to huntersunday, Candy Candies, Eclipse Monsoon, Chrome Masquerade, Bringiton6611, and Equine Editor for pre-reading and editing. Go check them out when you have the chance.

Told in first person through Flash' perspective and has several hints of the Jongojiverse, and foreshadows what I'll be doing in the future for the now hiatus story, "Vacant Niches." It's not required to read them, but I do allow a curious mind.
Rated Teen for Language.
Chapters (1)