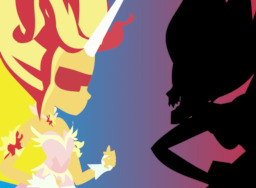 This story is a sequel to Heir of the Sands
---
Over the course of the past two years, magic has been ebbing its way into the Human World. The incident at the Fall Formal, the Battle of the Bands, the First Journey into the Mysterious Beyond, and especially since the Friendship Games has this become more apparent with the Crusaders and Maximals being able to Pony Up and the Predacon Attack at school. Something is going up, and as graduation approaches for the Humane Seven, everyone is getting ready for the next bit of trouble.
And rear its ugly head trouble does again. Chrysalis and Sombra prepare their own army of super soldiers and Tirek prepares to take a visit to their beloved town. Will the secret be kept, or will this be the cause for a war that will determine the fate of the world? Can the Rainbooms and their allies end this threat as they have many a time? Join me as we explore the conclusion to the "Other Visits" Saga.
...
Promoted: 3/20/2016
Recommended Reads
The New Timeline: The Edge, Technomagic War
The Advent of Godzilla (The New Timeline Chapters)
Equestria Girls (Jongojiverse)
Crossover Tag reference to characters such as Sadira (Aladdin) and Heka (Mummies Alive), may be removed based on opinion. More tags may be added as the story goes on.
Chapters (19)