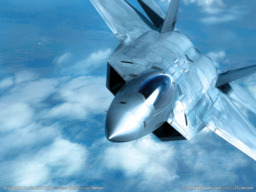 Source
Legendary Ace Mobius One, an Independent States' Allied Forces (ISAF) fighter pilot has finally managed to return home after destroying the Megalith weapon by himself effectively ending the war between Erusia and ISAF. But that peace would only last a few short years. The Free Erusian forces as they have dubbed themselves have planned a massive counter attack against one of the largest cities under control of the Osea Federation... November City, home to Mobius One and several million people.
Mobius One being the hero he is, takes to the skies once more alongside his fighter wing. However... strange things begin happening the in the skies above that not only transports him and his friends to an entirely different world, but the enemy as well.
Now Mobius One must fight against the enemy in the land called Equestria, aided by... talking pastel ponies who can wield magic and fly... seems legit. A new war is on the horizon... one that will change the fate of both Earth, and Equestria forever.
---
Proofread/Edited By: Dan_The_Jerk
. . . . . .
Chapters (3)