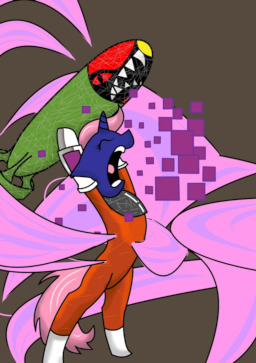 Mercy Andromeda had always wanted to go to space, ever since she was a little filly. When she wakes up to her life-long dream after a devastating act of sabotage from the zebras, she finds a horror story in the aftermath. She forgets her dream and goes down to talk some sense into the ponies below.
No pony seems to take her seriously, and she resorts to using her highly advanced "assets" to get them to listen. Between pink clouds, raiders, and comic books, she'll prove to the wasteland that she's a mare worth their attention.
How will the wasteland survive when a mare with conservative views and ideals descends upon them looking like she just jumped out of a comic book?
Based on the story by Kkat: http://www.fimfiction.net/story/119190/fallout-equestria
Chapters (23)