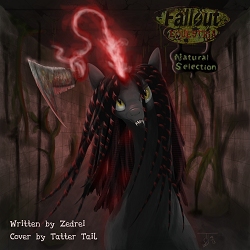 Equestria is gone.
In its place a barren and inhospitable wasteland, inhabited by the worst of ponykind's darkest nightmares. But some small remnants of the old ways survive, clinging to a harsh and unforgiving existence constantly on the edge of oblivion. These lucky few are the descendants of the nation of friendship, the survivors of magical cataclysm and the harshest punishments ponykind could levy upon itself. Some hid themselves away in great underground vaults called the Stables, sealed away until Equestria was habitable once more.
However, there were other things that weathered the storm. Things hidden in dark places beneath the earth, concealed by their creators for use in the great war, before the creators were themselves destroyed. And here we find one such thing. A weapon, a device for killing that fed off the lives of its victims, artificially filled with spite and malice.
This weapon had a name, but he can't remember. This weapon had a life, now torn asunder. This weapon had a love, irretrievably lost.
And now he wants payback.
Chapters (7)